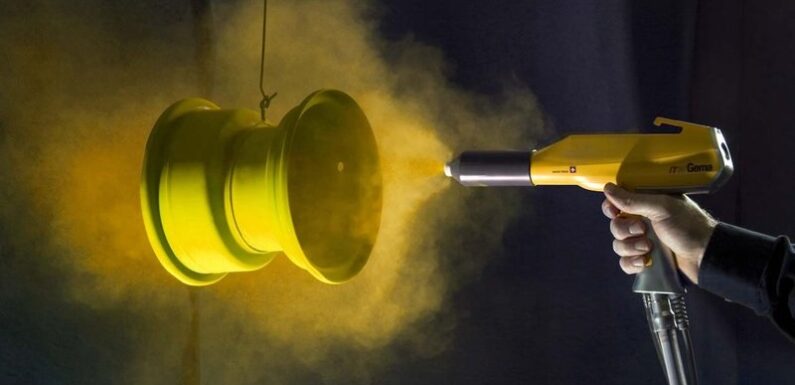 Powder coating is the process of applying a dry flowing powder on metal, plastic, steel, or concrete surface using an electrostatic gun. There are two distinct methods of powder coating; thermoplastic coating and thermoset coating.
The powder coating process requires surface preparation and the relevant powder coating machine and equipment to help you go about the process. Some of the common machines and equipment that you require for powder coating include:
Powder-coating guns
Powder spraying booths
Gas-fueled ovens
Electric powder coating ovens
Automated finishing systems
Spray Walls
Multistage parts washer
Manual washing enclosure
Blast rooms
Spray wands and steam units
Powder Coating Guns
Powder coating guns are used for applying the powder coating on the target surfaces. They are electrostatic application equipment used to electronically charge the ground powder particles and spray them onto the target surface during the application process. Powder coating guns can be automatic (machine operated) or manual (handheld). Both types work well and can apply a powder coat on surfaces. The difference comes to scale because automatic powder coating guns are industrial grade and can be used for applying powder coating in industries or large projects. In contrast, manual powder coating guns are handheld and can only coat one surface at a time.
Powder Spraying Booths
Powder spraying booths are spaces when powder coating is done safely without having the coating powder spilling into undesired areas. They are designed with adequate lighting and airflow to facilitate a proper working environment for workers. Besides, spraying booths can be customized for spray-to-waste use or powder reclaiming, which helps save on powder spray. Spraying booths are great for containing the spraying powder mess and help keep other working areas clean.
Gas-Fueled Coating Ovens
Gas-fueled ovens are standard powder coat curling equipment that is used for curling powder-coated surfaces. They are designed to heat the coated objects uniformly, allowing uniform curling and heating of powder-coated surfaces. These ovens are perfect for large-scale curling and can be used for industrial curling.
Electric Powder Coating Ovens
Electric powdered coating ovens are the electric version of gas-fueled powder coating ovens. However, these are smaller than their gas-powered counterparts and best suited for curling small parts such as lab equipment and small fabricators, among others.
Manual Washing Enclosure
For those operating on a tight budget, manual washing enclosures are cost-effective coating preparation centers for washing surfaces in preparation for coating. These enclosures come in various sizes and shapes and can be customized to suit your specific needs and requirements.
Multistage Washers
Multistage washers are designed to automate the surface preparation and washing process. They deliver cleaner parts, enabling you to spray surfaces effectively. The cleaners are designed to ensure that the coating is durable because of the cleaner the surface, the better the coating's durability.
Automated Finishing Systems
Automated finishing systems are powder coating lines designed with all the powder coating equipment. They are automatic and are perfect for industrial use. They come with multistage washers, blasters, curling ovens, coating booths, and cooling stations.
Final Thoughts
Powder spraying equipment is essential in the powder coating process. Such machines include powder coating guns, curling ovens, coolers, spraying booths, and washers. They help make powder coating more efficient.